Frequently Asked Questions
I cycle across these bridges or would like to, how would this impact my trip?
One-way protected bike lanes in both directions will reduce congestion, speed up travel time, increase safety for pedestrians and cyclists, and grow the number of bike trips between Brooklyn and Manhattan. The cycling boom has increased congestion: 22.75% more cyclists crossed the East River bridges in July 2020 compared to July 2019, and 55% more biked across in November 2020 compared to November 2019.
I'm primarily a pedestrian, how does this help me cross the bridges?
Adding bike lanes also helps pedestrians by creating more space for both users and reducing points of conflict between both groups trying to access narrow space on the bridge. Expanding pedestrian space to include existing bicycle spaces will also make it possible to maintain physical distance while crossing, and more pedestrians will be able to safely cross the bridges.
Don't the Manhattan and Williamsburg Bridges already have bike lanes?
The existing bike paths on these bridges are not wide enough for substantial numbers of cyclists and pedestrians to use safely. At their narrowest sections, the two-way path on the Manhattan Bridge is only 6.5 feet wide, and the two-way path on the Williamsburg Bridge is only 11 feet wide.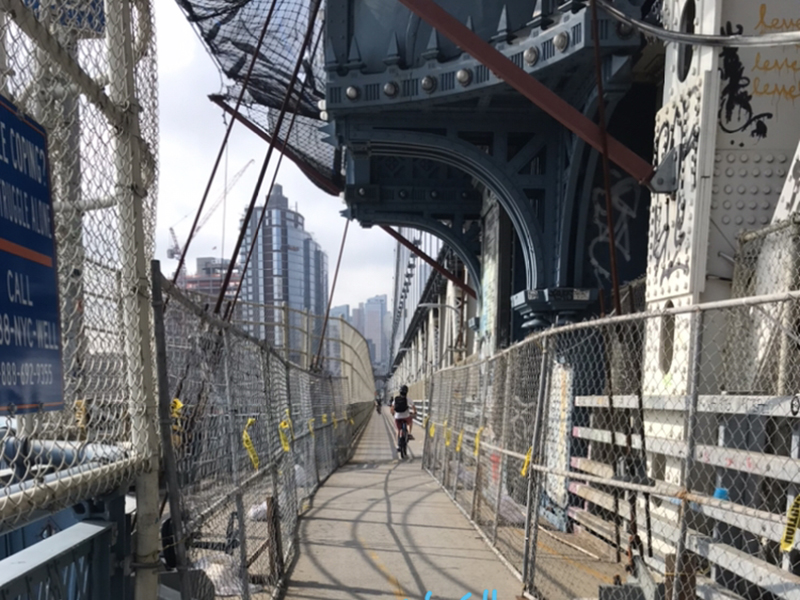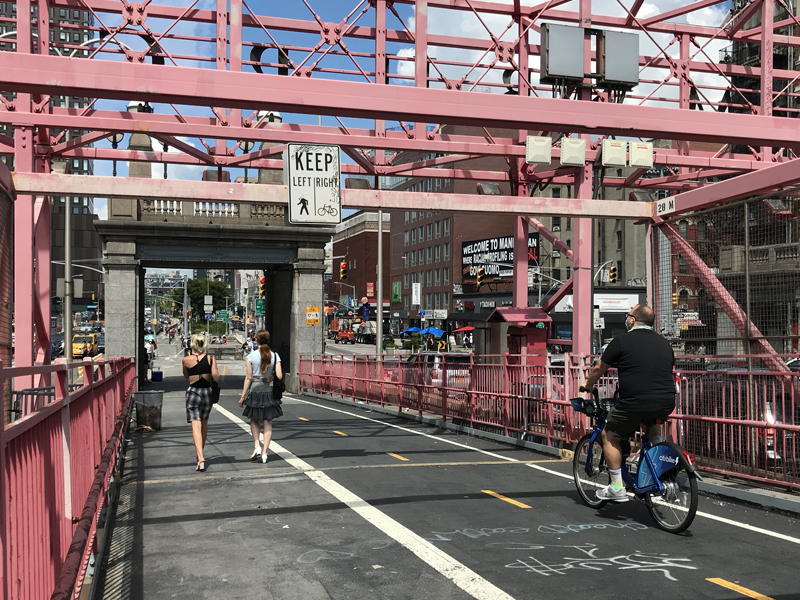 Isn't the Brooklyn Bridge already getting a bike lane soon?
In January, Mayor Bill de Blasio announced that a single car lane on the Brooklyn Bridge would be converted to two-way bike lane, and the new two-way bike lane will only be 8 feet wide. This infrastructure change is a step in the right direction, but such a narrow two-way bike lane won't meet the increased demand for cycling and isn't sufficient for cyclists going different speeds.
#BRIDGES4PEOPLE is still asking for a second car lane to be reallocated because 2 one-way 8-foot-wide bike lanes would more safely accommodate the growing number of cyclists crossing the East River.
How would this impact the neighborhoods around the bridges?
The neighborhoods on each side would be better connected, and residents could enjoy what the neighborhood on the other side of the bridge has to offer. These areas may also benefit from less congestion and pollution from cars as biking becomes more attractive. Businesses that offer local delivery, such as restaurants, could expand their delivery area because of the more reliable, reduced biking travel times across the bridge.
As New York City reopens, the additional space for pedestrians on the bridges will make it easier and more appealing for people to linger on the bridges and nearby areas without competing for space with commuters.
How would this impact the lives of working people in New York City?
#BRIDGES4PEOPLE would make our public spaces more equitable for all New Yorkers. A majority of New Yorkers do not own a private vehicle or drive to work. Car owners tend to be wealthier: the median income of car-owning households in New York City is $85,000, while the median income of households that do not own a car is $40,630. Despite this, the vast majority of our public street space is devoted to vehicles, which facilitates the movement of the wealthier minority at the expense of the majority of New Yorkers who walk, bike, and take public transportation to get around. #BRIDGES4PEOPLE would help to correct this inequity and allow people who do not own vehicles to travel between Manhattan and Brooklyn safely.
What is the environmental impact of
#

BRIDGES

4

PEOPLE?

Motor vehicles are a major source of air pollution: they create approximately 11% of the local fine particulate matter and 28% of the nitrogen oxide emissions in New York City. This pollution contributes to both climate change and respiratory diseases, including asthma. New Yorkers who live close to major thoroughfares, such as the bridges, are disproportionately impacted by air pollution and its health effects. #BRIDGES4PEOPLE would promote clean transportation methods and help to decrease the number of polluting vehicles crossing between Manhattan and Brooklyn.
Wait, I thought bridges were supposed to carry cars?
Historically, no: the Brooklyn, Manhattan, and Williamsburg bridges all used to give the majority of their space to pedestrians and public transit. In past configurations, the Brooklyn Bridge gave significantly less space to private vehicles and carried more than double the number of people across each day.
Once there are more pedestrians and cyclists crossing the bridges, where will they go once they reach the other end?
As part of #BRIDGES4PEOPLE, we are asking the Department of Transportation to prioritize street redesigns near the bridges to facilitate the movement of large numbers of pedestrians and cyclists between the bridges and local neighborhoods. In particular:
Add protected bike lanes between the West Side Bike Path and the Brooklyn and Manhattan Bridges.
Create safe cycling space between the new Jay St. Busway and the reconfigured Manhattan Bridge bike lanes.
Make Clinton St., south of Delancey St., safer for pedestrians and cyclists by stopping vehicular access to the Williamsburg Bridge.
How can I help?
Tell your friends and family about this campaign.
Share the #BRIDGES4PEOPLE campaign on your social media and follow us on Twitter, Instagram, and Facebook to stay informed about upcoming events and other campaign developments.
How can my community organization or business support this campaign?
#BRIDGES4PEOPLE is seeking community organizations and businesses to join our campaign. If you are a business owner, member of a school group, religious organization, or other community institution, and your organization believes that we need #BRIDGES4PEOPLE with more space for pedestrians and cyclists to cross safely, join the #BRIDGES4PEOPLE coalition.
The #BRIDGES4PEOPLE Campaign is a project of the Transportation Alternatives Brooklyn, North Brooklyn, and Manhattan Activist committees.
The #BRIDGES4PEOPLE Campaign is supported by your donations, and your contribution will go directly towards our effort to create bridges for people. Donate now.